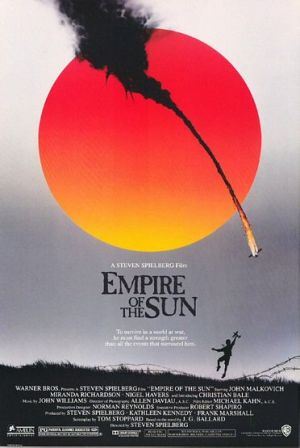 +

Year of release: 1987
Director: Steven Spielberg
Writers: Tom Stoppard (screenplay), J.G. Ballard (novel)
Starring: Christian Bale, John Malkovich, Miranda Richardson, etc.

For more information on "Empire of the Sun", visit Wikipedia and/or IMDb
General impression:
This movie is based on a semi-autobiographical novel by J.G. Ballard, and the story is really impressive. A British child gets lost from his parents in Shanghai, during World War II. With no acquaintances in sight, caught in the chaos of the war between China and Japan, the boy has to survive by himself, and grow up overnight. If the kid in the main role seems familiar, just be aware that the movie was released in 1987, and Christian Bale was born in 1974. Yes, the child actor is 13-year-old Christian Bale, a true acting talent then and now. He also sings (beautifully) in this movie.
Highlights:
It's a perfect movie – all pieces fit together, and the whole final result is strong and memorable. It's not hard to remember the adventures of a boy who, in a flash, lost his life of privilege entirely, and, all alone, with nothing, not even food, had to find his way through a war.
Downside:
It's that type of movie that you don't feel you have much to say about, no matter if you liked it or not.
Would I see it again? – Yes
My Rating (1 to 10): 10
Recommended: Yes
Suggestion:
Keep handkerchiefs or tissues close by, just in case this excellent movie… moves you 🙂