Summer is not the time to sit and watch movies, unless you're sitting outside, maybe in an open air cinema. But not everyone is able or willing to be out and about enjoying the weather all summer long. For those who want an instant two-hour holiday in the comfort of their home, there are movies that combine vacation scenery with captivating stories in such a great way that the whole experience almost makes you feel like you're reading on the beach.
For this post, I've chosen four such movies. They don't have similar themes or stories, but, in pairs, they do have common elements. For example, three of them feature the sea prominently. Of those three, two are set in the Mediterranean region, just like the fourth. And come to think about it, the element of youth and the passing of time are present in all four of these fairly different movies.
Let me tell you why I think each of them is a good watch for the summer.
Le grand bleu
(details about "Le grand bleu" – EN: "The Big Blue" – at Wikipedia and IMDb)
"The Big Blue" is a 1988 movie by French director Luc Beson, starring Jean-Marc Barr, Jean Reno, and Rosanna Arquette. The story is inspired by two real-life champion freedivers, but that is not why I'm recommending it. First of all, it is a good movie, effectively combining comedy and tragedy, friendship and rivalry, love and passion. Then, you have dolphins, pasta, the Mediterranean, and a lot of cooling blue. It is a very enjoyable drama, and I wouldn't want to spoil it with details.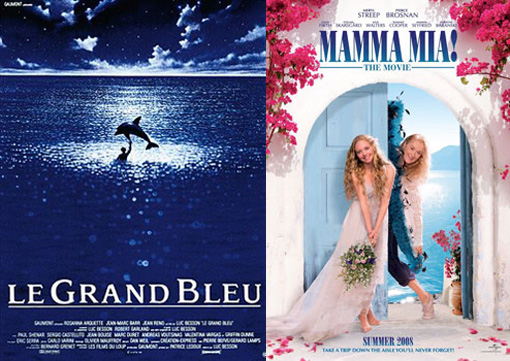 Mamma Mia!
(details about "Mamma Mia!" at Wikipedia and IMDb)
We're still at the Mediterranean, this time with Meryl Streep, Amanda Seyfried, and friends. This musical tribute to ABBA is quite silly in essence. A girl is getting married and she's inviting her three possible fathers to her wedding. But before making a hasty judgement, you should also know that in this movie the sea is blue and sparkling, the music is familiar, and everybody's dancing and having a good time. So, if you're looking for a light, joyful, sweet movie, this one is a good choice. And the best thing is that you will sing along before you know it. There's also the probability that you're going to start planning a vacation to Greece as soon as the movie is over.
Life of Pi
(details about "Life of Pi" at Wikipedia and IMDb)
Based on the best-selling novel by Yann Martel, this is the fantasy adventure movie in the list. However, it is quite slow and a bit unbalanced for an adventure movie, and, if you're not interested in how a boy and a tiger share a lifeboat in the middle of the Pacific Ocean, you may find this movie very boring. The story and the visuals are beautiful, though, supporting the philosophical core of this production. I've said this before: "It's a beautiful film, with spectacular visuals, poetry, and sparks for thought."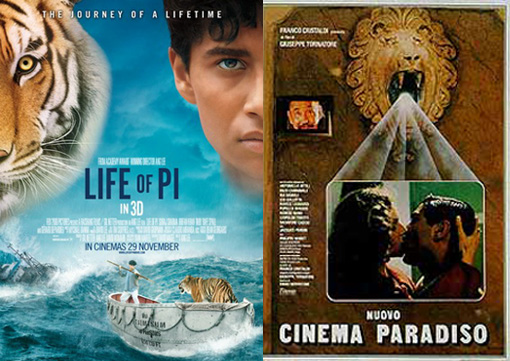 Cinema Paradiso
(details about "Cinema Paradiso" at Wikipedia and IMDb)
This famous Italian movie about lost love and childhood passion turned into a career, brings us back to the Mediterranean, in Sicily. It is a touching story about a boy growing up without his father, finding friendship and fatherly care in the projectionist working in the local cinema. Eventually, the boy grows up, leaves for Rome, and becomes a filmmaker, but the price he pays is very much like the censorship of his childhood movies. You have to watch the movie to know what I'm talking about 🙂
Of course, there are many more movies great for summer, and maybe there will be a second part to this post – I'm already thinking of five other movies. But this is it for now.
Did you see any of these four movies? Leave your opinions and suggestions below 🙂