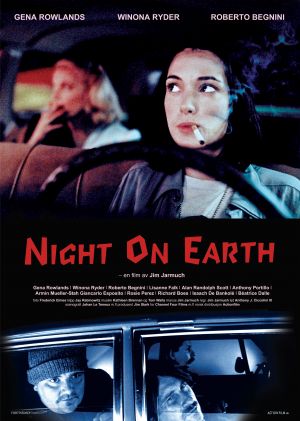 +

Year of release: 1991
Director: Jim Jarmusch
Writer: Jim Jarmusch
Starring: Winona Ryder, Gena Rowlands, Roberto Benigni, etc.

For more information on "Night on Earth", visit Wikipedia and/or IMDb
General impression:
I loved all the movies by Jim Jarmusch I've seen, and if I should pick my favorite, "Night on Earth" would be it. The decisive factor is its rich diversity. You don't have time to get bored during this movie – now you're in Los Angeles, then you're in New York, then Paris, Rome and Helsinki. It's a collection of short stories around taxis, each with its funny, crazy and sensitive parts. The actors are great, the idea is interesting, the script flows well, and I become biased whenever I see Roberto Benigni – I think he's hilarious! In LA, Winona Ryder is the taxi driver – the tiny, skinny, pretty, tough, down-to-earth, female taxi driver. In NY, the taxi driver doesn't really know how to drive. The Parisian episode marks the difference between seeing and understanding, and Roberto Benigni drives, talks and acts like a madman on the streets of Rome. Finally, you learn what happens when you get drunk with your Finnish friends. I read that the actor who played the part of the driver in Helsinki died in 1995, at 44, four years after "Night on Earth – RIP Matti Pellonpää.
Highlights:
It's funny, smart, and, at times, even deep.
Downside:
The worst thing about this movie is that I cannot find any flaw, and I have no idea what to mention as a downside 🙂
Would I see it again? – Definitely. It's one of my favorite movies.
My Rating (1 to 10): 9.5
Recommended: Yes!
Suggestion:
Don't get into a cab if you see Roberto Benigni is the driver, unless you want to have a good laugh 😀